On 16 June, we'll meet at Peace Lutheran Church. Here is the address: 2201 Rio Grande
College Station, TX 77845. Here is a link to the location on Google Maps: https://goo.gl/maps/xrmzrFmv5vs
The parking lot entrance is actually at the intersection of Airline DR and Shenandoah DR.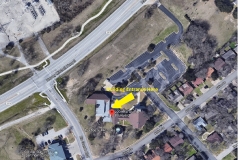 Click on the photo to enlarge.
I'll look forward to seeing you there!